– By Rohit Rohan

Website: http://agencyinsider.org/
What is the future likely to be like?

Much like an Isaac Asimov story, let's begin this piece with a simulation of the future.Imagine a day in the life of an everyday guy in the year 2025. Our guy wakes up in his bed early in the morning – to the ringing alarm by the side of his bed. After a few minutes, he heads in to get fresh and head out to work – takes public transport on his way to office and returns home later in the evening in a similar fashion. Not much different from today and not very Asimov-ish, right?
Wait, let's go back to the start!
In 1982, the Coke machine installed at the Carnegie University became the first machine to be connected to the internet – it could tell you if the drinks were hot or cold. In 2020 there will be close to 30 billion devices connected to the Internet of Things – telling you everything you want to know and perhaps even what you should know.
Cloud computing expert John Barett says that the amount of data which we have managed to collate digitally, is as much as a stack of books between us and Pluto – covered eighty times! And we are using this dynamically changing data, processing them to make sense of it and then using it to our advantage. With exabytes of data being cycled every second, how will our physical world and activities be influenced?
Enter, Internet Of Things

Well, the term you are looking for is 'Internet of Things' – brought to reality today by the expo-exponential pace at which the ecosystem around us getting digitized and customizable. Much like the flying machine of Wright brothers, IoT is making things possible which we had only seen in sci-fi movies or read about in graphic novels. Lines between the physical world and the digital space are blurring with technology enabling new frontiers and methods of getting the message across in the marketplace – tweets, digital-currency, diggs and what not.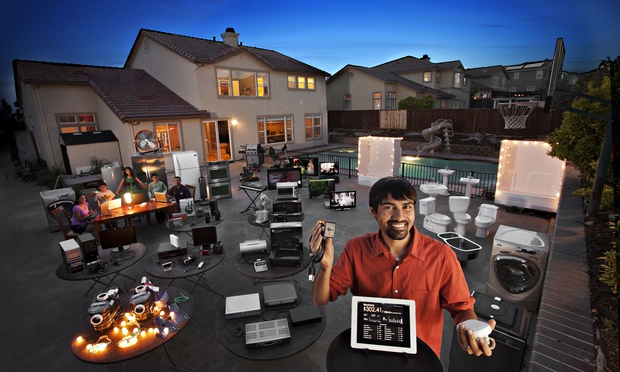 Let's get back to our guy again and try and see how different his journey will be from what it was ten years ago from now. Our guy is woken up by the alarm ringing on his digital watch – which had by now adapted itself with its owner's daily habits, optimized the right amount of time needed for sleep given his daily activities and had rung up the alarm just in the right time. His watch also shows a "heart-chart" with two health notifications. He proceeds to the washroom next.
While brushing his teeth, his mirror displays screens and windows that he can touch and operate. After checking the weather and the calendar – and the stock updates – he moves to the next screen to check his social media notifications and email. A few replies and shares later, he is back in his room gearing up for work while checking out the health updates already synced between his tablets and his watch.
On his way to work, while he is updated with news podcasts and feeds, he also learns about deals and events happening on the route. Through social updates, he also stumbles upon an event in some other part of the city and adds it for reminders on his calendar. By the time he reaches office, he has already purchased a book on the way – also suggested to him on the social media space – and has even placed the order for his customized delicacy that will be delivered to him for lunch.
Far-fetched or for real?

Let's stop here to absorb the scenario and the differences thus far. To some, it may all still seem too farfetched and distant – but not impossible – than ten years from now. But then, twenty years ago, users were just learning to sell and buy things online – there was no Amazon around and eBay was a risky-experiment; not to mention the absence of 'online search' as we know it today.
By ten years in 2005, Google had released its IPO, started developing navigational assistance aspects of Google Earth; and perhaps everyone (except Brin and Page) would have laughed at the very possibility of something remotely close to Google Glass.
There was still no one telling people where to eat (Zomato) or where to be (Facebook was just a year old; LinkedIn, two). Even the iPhone – out in its 6th generation now and with multiple other product variants and inspirations – was only a concept and we were still dependent on television commercials and brand ambassadors about making choices.
Zoom in to the present world navigated via digital maps, ordering pizzas on the phone and clicking pictures with a blink and not a camera or a phone! Today, our day is decided on a digital calendar, our purchases are influenced by social-recommendations and the winner is the brand not just manages to reach the precise consumer first but also serves her exactly what she wants!
Alibaba.com and others today are experimenting with flying drones for delivery of their products; 'connected' cars are now interlinked via social and digital media; your shoes combined with your phone, are your health experts and you can accurately locate absolutely anything you've lost with the help of your mobile phone – and your social community will help you do it! At the pace which our lives are getting embedded in the digital channels, our guy's day in 2025 now doesn't seem too distant. Does it?
Internet of Things and Marketing of the Future
With the minutest facets of everyday lives interfacing with technology so closely, the possibilities for digital marketers are – let's face it – endless! Every object from the watch to the vehicle is a potential ad-platform and literally every step of the user furnishes new marketable options to be relayed to her – as per her choice. While the scopes of IoT are only superficial conceptualizations for us now, what we must also realize is that the capabilities of most marketers – and their enablers – are yet to be updated.
It is not just essential to know who, when and where to target; but also with what and how. Superior technical capabilities will not just enable marketers to attend to consumers but will also help push future recommendations and transactions to the user – thus elongating the user's interaction with the brand. In this respect, it is understandable why advertising firms are rapidly adding to their tech-assets: for the earlier you start now, the more benefits you reap in the digital future.
Digital : What does this mean for marketers?

At the cross roads of marketing evolution, the technology enablers are entering the creative space while the traditional agencies are making technological acquisitions to add power to their arsenal. In this overlap of capabilities where both the schools of marketing are heading to display end-to-end capabilities, one thing is repeatedly reinforced – digital is the way to ahead.
However, tools and capabilities are not the only requirements to either impress either clients or influence consumers – it will also be crucial for marketers to have a thorough and relevant understanding of the digital ecosystem to churn out new methods of communication which are then most relevant to the user. This would require not just being equipped with technology but also be experienced in using it intelligently to generate impacts.
Disclaimer: All company names, trade names, trademarks, trade dress, designs/logos, copyrights, images, content and products referenced in this blog are the property of their respective owners. No company reference sponsored this blog or the contents thereof
Spread the word!
Find us at -
Related Posts